UMC Roll Racing Rd 2 07/02/2022
Event Requirements
Registration closed June 1, 2022 6:35 PM at 2022-06-01T17:35:00-0700 Registration ends June 1, 2022 6:35 PM at 2022-06-01T17:35:00-0700 Registration opens May 2, 2022 12:00 AM at 2022-05-01T23:00:00-0700 Registration runs from May 2, 2022 12:00 AM to June 1, 2022 6:35 PM
Overview
Two cars at a time, roll at approx. 40 mph to the start line together and then race to the finish line at 1000 ft.
Procedure
Track entry and exit will be through Gate 2 – UMC Track Staff will ensure driver and vehicle has been properly credentialled. Once the driver enters gate 2, they will make a left to go up "return road" (pit road this will be counter track at pit road speed). The driver will continue along "return road" until he/she gets to turn 15 on the East Track. They will then stage on the road course 2 cars wide from our provisional start line.
Two cars will line up and wait for the signal of the Starter
After the signal, both cars will get up to 40mph
Once they cross the start line (cones with green flags) the race has officially began and both cars will race to the 1000 ft mark
The first one to cross the finish line wins! Finish line is marked by two tall cones with checkered flags.
Drivers are required to immediately get off the gas, and slow their vehicle down in the "shut down" area, the length of this shut down space is 2300 ft
Drivers will make a sharp right hand turn on to the service road located at Turn 1 of the West Track and return to the pits.
Drivers will have the choice of making another Roll Racing pass or exit the track at Gate 2.
The next pair of cars will move forward to the provisional start line. Once the Starter has received the radio call from the UMC Track Staff located at Turn 1 that the vehicles have cleared from the track, the starter will single for the next pair of cars to run.
Safety Points
Self Tech Sheet Self Tech Form RR 2022.pdf
Entry for ages 18+ only
Must have valid driver's license
Street cars only
First Driver's meeting will be conducted at 5:30pm - Second Driver's Meeting at 6:45pm

Any driver who refuses to voluntarily reduce speed, or stop in the event a car does not handle properly (i.e. excessive drifting of the car toward the center or the edge of the strip), or any driver who willfully fishtails or weaves in an attempt to show undue disregard for the safety of himself or spectators, will be immediately barred from further participation of the event
All drivers must always keep their helmet and seat belt on while on the racetrack and return road
Once on the official track, all drivers must remain in their vehicle unless there is the situation of a fire
No burnouts of any kind on the facility, if such conduct should occur, they will be asked to leave the premises
Any damages to the safety barrier or surface will result in the driver being charged for repairs/cleanup.
Any oil downs that require clean up – there will be a clean charge to the offending vehicle
If any of the above regulations are violated, a fine of $250 will be imposed and you will be escorted from the facility

Track lanes will be split by cones for the entire length of racing surface from the provisional start line through to the finish line. This will provide 25ft of track width to each lane.
Only 2 cars will be on the racing surface at any given time.
Drivers must complete a self tech sheet, but a thorough tech inspection will also be completed by each car, and a tech/track sticker will be provided.
Safety equipment – Driver are required to wear SA2015 Helmet. Long sleeve shirt, and long sleeve pants, closed toed shoes are required. 100% Cotton or fire-resistant clothing. Some fabrics will melt to the skin, even in the absence of fire, and cause serious burns.
No passengers allowed
No spectators or mechanics will be allowed anywhere on pit road. Spectator viewing will be from East and West Chalets as well as the grandstand at East Track Turn 15. Approved media will be allowed to shoot from pit wall. All vehicle servicing/checking must be completed in the paddock area.
UMC Track Staff – 1st at provisional start line, 2nd at far end of surface where track exit on the return road is located, 3rd at West Pit road to monitor track surface and cars returning on return road, 4th at East Pit road to monitor track surface, cars returning on return road AND gate 2 entry (I may have a 5th person at this location). Race control is not needed, as they cannot get a clear view of the entire surface
UMC Safety and Medical – One Fire Truck and one ambulance are required, roll back will be staged.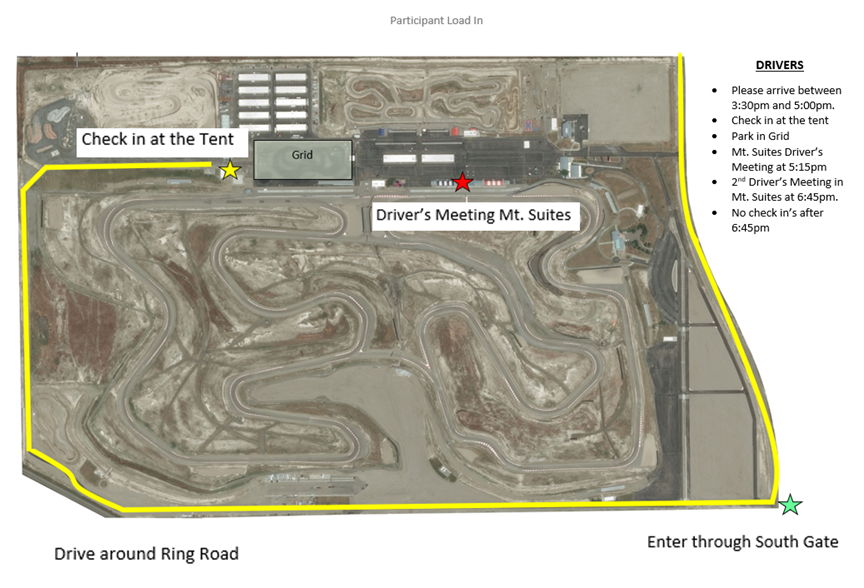 Registration closed June 1, 2022 6:35 PM at 2022-06-01T17:35:00-0700
Registration opens May 2, 2022 12:00 AM at 2022-05-01T23:00:00-0700