UMC Roll Racing 7/16/2022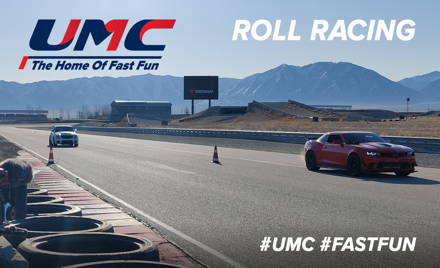 Utah Motorsports Campus
Saturday, July 16, 2022
Utah Motorsports Campus
,
Grantsville

,

UT
Registration closed July 16, 2022 6:45 PM at 2022-07-16T17:45:00-0700 Registration ends July 16, 2022 6:45 PM at 2022-07-16T17:45:00-0700 Registration opens June 2, 2022 6:00 PM at 2022-06-02T17:00:00-0700 Registration runs from June 2, 2022 6:00 PM to July 16, 2022 6:45 PM

** This is a morning event - Keep temps down and run longer!!
Welcome to UMC Roll Racing
Utah Motorsports Campus is pleased to announce the return of Roll Racing! No need to worry about UHP here! Sign up for safe and legal street style racing. Line up, 40mph dig, first one crossing the checker flags win!
Allowed Vehicles
Cars
Trucks
NEW - Want to race multiple cars? $35 per additional car add-on. SAME driver, multiple cars. Recieve one wrist band and two car stickers. Trailer parking is available.
Details
Utilizing the entire front straight of the Outer Track, racers will roll from our preliminary start line getting up to approximately 40mph and will start racing at the green flag located at the official start line, and race to the finish line at 1000ft.
Two cars per race
40ft of "roll"
1000ft Race
2300ft Shut Down
Entries capped at 120
Entry cost $125
Check in at the Registration table 7:30am - 9:30am
*Mandatory* Drivers Meeting at 8:30am in Mt. Suites
Second Drivers Meeting for those running late at 9:45am in Mt. Suites
Track Hot at 9:00am - 1:00PM
Entry for ages 18+ only
Must have valid driver's license
Street vehicles only
RULES – THESE WILL BE STRICTLY ENFORCED
Any driver who refuses to voluntarily reduce speed, or stop in the event a car does not handle properly (i.e. excessive drifting of the car toward the center or the edge of the strip), or any driver who willfully fishtails or weaves in an attempt to show undue disregard for the safety of himself or spectators, will be immediately barred from further participation of the event
All drivers must always keep their helmet and seat belt on while on the racetrack and return road
Once on the official track, all drivers must remain in their vehicle unless there is the situation of a fire
No burnouts of any kind on the facility, if such conduct should occur, they will be asked to leave the premises
Any damages to the safety barrier or surface will result in the driver being charged for repairs/cleanup.
Any oil downs that require clean up – there will be a clean charge to the offending vehicle
If any of the above regulations are violated a fine of $250 will be imposed and you will be escorted from the facility
Track lanes will be split by cones for the entire length of the racing surface from the provisional start line through to the finish line. This will provide 25ft of track width to each lane.
Only 2 cars will be on the racing surface at any given time.
Drivers must complete a self tech sheet; a thorough tech inspection may also be completed by a UMC official at any time
Safety equipment – Drivers are required to wear SA2015 or newer helmet
No spectators or mechanics will be allowed anywhere on pit road. Spectator viewing will be from East and West Chalets as well as the grandstand at East Track Turn 15. Approved media will be allowed to shoot from pit wall. All vehicle servicing/checking must be completed in the Grid area.
CLASSES
New for 2022! We are making it quick and easy to find your match. Pick a class based on your horsepower and line up with those that have the same color sticker. Of course, you can line with anyone you choose.
1. Under 400
2. 401-500
3. 501-600
4. 601-700
5. 701-800
6. 801-900
7. 901-1000
8. Unlimited